Yu-gi-oh hiçbir zaman küresel ana akım kabul edilebilirlik düzeyine ulaşamadı Pokémon. Sanat, kitlesel pazar çekiciliğine asla uymayan cesur bir stile sahipti ve her nesil kart, en adanmış hayranları bile sık sık şaşırtan yeni bir dolambaçlı kural seti ile geldi. Yine de ticaret kartı oyunu, inançları veya ulusal kökenleri ne olursa olsun, Teksas'taki diğer göçmen çocuklarla topluluk bulmamın yoluydu.
Teksas, ulusal medyanın sandığından çok daha karmaşık bir yer. Elbette, evanjelik güneyin kendi kesimlerinde Trump'a oy veren, silahlı Cumhuriyetçiler var. Ancak son zamanlarda Çin, Malezya, İran ve Türkiye'den göçmenlerimiz de oldu. Teksaslılar evde farklı diller konuşurdu. Bazıları pazar günleri kiliseye giderdi, bazıları ise camilerde toplanırdı. Yine de çoğumuzun ortak bir yanı vardı: Duel Monsters'da aşağı atmaya hazırdık. Ne zaman asosyal ilgileri olan bir göçmen çocukla tanışsam, şunu sormak tamamen güvenliydi: "Hey, oyun oynuyor musun? Yu-gi-oh" En canlı çocukluk anılarımdan bazıları, ön verandamda diğer göçmen çocuklarla kart takası yapmaktı.
Ünlü karmaşık turnuva mantığına rağmen, YGO queer ucubelerin, ineklerin ve matematikçilerin arkasında toplanabileceği erişilebilir bir dildi. Anime son derece popülerdi ve DVD'leri satın almaya gücü yetmeyenler onları YouTube'da üç bölüm halinde izleyebilirdi. Ve oyun, hayranların paketleri yerel Walmart'larından satın alabilecekleri kadar yaygındı. Farklı yetiştirilmiş insanlar için erişilebilir kılan kuralların güzel bir mantığı vardı. Ve kültürünüz Teksas toplumunu "ana akım" haline getirmek için ne kadar soğuk olursa olsun, mümkün olduğunca çok kart ve kullanımlarını inceleyerek diğer düellocuların saygısını kazanabilirsiniz.
"Bazen başkalarını mutlu ederiz, bazen onları incitiriz, anlayış gösteririz ve aynı fikirde olmayız… İnsanların duygu ve düşüncelerinin tek yönlü olmadığını öğreniriz." YGO yaratıcısı Kazuki Takahashi son ciltte yazdı manganın. "Karakterlerin oynadığı oyunlar monitörlere değil, başka insanlara dönük oynanıyordu. Oynadıkları rakipler yüreklerini yansıtan aynalardı."
Mangada, uzun zaman önce ölmüş bir firavun, yetenekli bir kart oyuncusu olduğu için günümüz düellocularını onu kabul etmeye zorladı. Ancak düşük riskli senaryolarda bile, sosyal statüsü olmayan karakterler, gururlarını savunmak veya inançlarını savunmak için Düello Canavarları oynardı. Teksas'ta yaşayan queer insanlar için beyaz Hıristiyan hegemonyasına sessizce boyun eğmek zorunda kaldık. Ancak anime, hayranlarına toplumun dışlanmışlarının aşağılanmayı kabul etmek zorunda olmadığı kurgusal bir dünya gösterdi. Animede bir kabadayı birisini hedef alıyorsa, kurbanın intikamını alması için bir yol vardı: İşkencecilerini bir kart oyununda yok edebilirlerdi.
G/O Media komisyon alabilir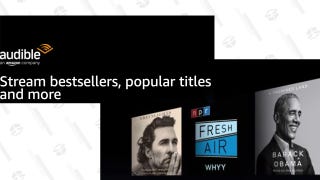 FREE
Audible Premium Plus 3-Month Free Trial
Listen up
The Audible Premium Plus experience for Amazon Prime users includes unlimited listening to the Premium Catalog, plus (see what they do there?) one credit per month for any title of their choice.
Obviously, I couldn't do this in real life. Texas senator Ted Cruz would never agree to sit down with me in a game of Duel Monsters, and brilliant plays weren't going to magically cure homophobia among my peers. But Takahashi sold us a fiction where it was possible for misfits to gain social acceptance by being smarter than their opponent. Our families had already been lured to this country by a siren song known as "The American Dream." Their socially ostracized kids needed fantasies too.