Yaşlı erkeklerde yaygın bir mutasyon, onların yaşamdan daha fazla acı çekmesine neden olabilir.kalp problemlerini tehdit ediyor. Hem farelerde hem de erkeklerde yeni araştırma hücrelerdeki Y kromozomunun kaybının, organ yetmezliğine yol açabilecek doku skarını tetikleyebileceğini öne sürüyor. Bulgular bir gün erkeklerde kalp ve diğer kronik hastalıkların daha iyi taranmasını sağlayabilirY kromozomu kaybı yaşayan erkekler için hedefe yönelik tedavilerin yanı sıra.
Çoğu insan hücresi 23 taşır kromozom çiftleri—hücrelerin nasıl işlev görmesi ve kendilerinden daha fazlasını yapmaları gerektiğine ilişkin talimatları taşıyan ipliksi protein ve genetik materyal demetleri. Bu çiftlerin yirmi ikisi, her bir kromozomun temelde aynı kopyalarını içerir. Ancak bir çift, diğerinden biraz farklı bir kromozom içerebilir ve biz bunu şu şekilde ayırt ederiz: X ve Yve bu kromozomlar biyolojik cinsiyetin belirlenmesinde çok önemli bir rol oynar. XX kromozomlu insanların çoğu kadın üreme anatomisine sahiptir ve kendilerini kadın olarak tanımlarken, XY kromozomlu çoğu insan erkek üreme anatomisine sahiptir ve kendilerini erkek olarak tanımlar (doğadaki her şeyde olduğu gibi elbette istisnalar vardır).
Bununla birlikte, XY erkekleri yaşlandıkça, hücrelerinin bir kısmı, özellikle de kan hücreleri, Y kromozomunun kaybolması olarak bilinen Y kromozomunu kaybetmelerine neden olan mutasyonlar geliştirebilir. 70 yaşına kadar erkeklerin %40'ından fazlası deneyim bu durum, ve aslında insanlarda daha sonra kazanılan en yaygın mutasyon olabilir. Cinsiyet kromozomları gelişimimiz için ne kadar önemliyse, somatik hücrelerin (sperm ve yumurta olmayan hücreler) hayatta kalması için gerekli değildir, dolayısıyla bu Y'siz hücreler vücutta işlev görebilir ve bölünebilir. Ancak son yıllarda, Y kaybının zararsız olmadığına dair kanıtlar artıyor.. Araştırmalar, örneğin, durumu olan erkeklerin daha kısa yaşam sürelerine sahip olduğunu öne sürdü.
Bu yeni araştırma, yayınlanan Perşembe günü Science dergisi, Y kaybının ciddi sağlık sonuçlarıyla gelebileceğine dair en iyi kanıtı sunuyor gibi görünüyor.
"Y kromozomunun kaybının patolojik süreçte doğrudan nedensel bir rol oynayıp oynamadığı, üzerinde durulmayan önemli bir soruydu. Örneğin, bazıları tarafından, Y kaybının, gri saç veya cilt kırışıklıkları gibi biyolojik yaşlanmanın iyi huylu bir göstergesi olduğu iddia edilmişti, ", Virginia Üniversitesi'nin Hematovasküler Biyoloji Merkezi'nin yöneticisi olan çalışma yazarı Ken Walsh, Gizmodo'ya bir e-postada söyledi. "Böylece, Y kaybının doğrudan bir rolü olup olmadığını ele almak için çok yönlü bir çalışma yürüttük."
G/O Media komisyon alabilir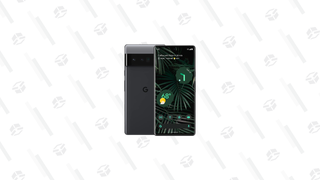 22% Off
Google Pixel 6 Pro
Fancy phone
Uses a powerful Google Tensor processor for absurd speeds, has an advanced camera with a 4x optical zoom, and a sensor that can capture more light than ever before, has a fast-charging battery to allow you to stay on the go more, and features multiple incredible photo tools.
Walsh and his colleagues, which included researchers from Japan and Sweden, bred mice engineered to lose Y in their blood cells as they aged. And just as the earlier research in men suggested, these mice lived shorter lives and developed more health problems than mice with their Y intact. When they looked closely at the bodies of these mice, the team noticed fibrosis, or a build-up of scar tissue, throughout their hearts, kidneys, and lungs. And they found evidence that the loss of Y had influenced the behavior of white blood cells, possibly shifting the immune cells into an "anti-inflammatory state" that can trigger this scarring process.
Aside from studying mice, the researchers also analyzed data from the UK Biobank, a long-running longitudinal study that's been tracking the health of tens of thousands of Britons. And in older men, they found a link between the loss of Y and a risk of cardiovascular disease, particularly heart failure.
All together, the team's research indicates that losing Y can cause men's aging hearts to become more scarred than usual. And this scarring can then heighten the risk of non-ischemic heart failure, or heart failure that's not caused by the blocking of our arteries. Though non-ischemic heart failure isn't as well-known as the more classic form, it's still thought to affect 3 million Americans, and it's harder to manage with few treatment options, Walsh points out.
"The new insight is that we provide compelling data indicating that loss of Y can directly contribute to disease processes," he said.
As important as this study is, it's likely to only be the beginning of understanding the connection between the Y chromosome and men's health. More research will be needed to confirm the team's hunch that the loss of Y is specifically raising men's risk of non-ischemic heart failure, for instance. Given the data in mice, it's also possible that losing Y can affect the body's organs in other ways, too.
But if these findings are confirmed, then it could provide new avenues for prevention and treatment. Men could be screened for the loss of Y with a relatively simple PCR test, Walsh notes. And those with high levels of Y loss could then undergo additional tests like MRI scans to look for scarring. There are also already existing drugs for scarring-related disorders and more in the development pipeline, so men without Y might especially benefit from these treatments. And simply learning more about the loss of Y might one day help keep us alive and healthy longer, Walsh adds.
"Foremost, we need to define the genes on the Y chromosome whose loss leads to these disease conditions," he said. "Once these genes are identified we can conduct deeper mechanistic studies that may reveal new features of disease processes, and biological aging process itself, and that could lead to the development of new therapies to combat the diseases of aging."
Kaynak Linki