Salı günü yayınlanan yeni bir araştırma raporu, uzun süreli covid hastalarının, kanlarının filtrelenmesi de dahil olmak üzere semptomları için maliyetli ve test edilmemiş tedavileri denemek için denizaşırı ülkelere seyahat ettiğini ortaya koyuyor. Ancak en azından bazı uzmanlar, bu tedavilerin iddia edilen faydalarını destekleyen güçlü kanıtları olmadığı konusunda uyararak eğilim hakkında endişeli.
bu bildiri BMJ ve ITV News arasındaki ortak bir işbirliğidir. Yazarlar, devam eden covid sonrası semptomları için yardım bulmayı umarak Kıbrıs, Almanya ve İsviçre'deki kliniklere giden hastaları ziyaret etti veya görüştü. Bu semptomlar, kalıcı yorgunluk, nefes alma sorunları ve bilişsel işlev bozukluğu veya beyin sisi içerir, ancak bunlarla sınırlı değildir.
Bu klinikler tarafından sunulan birincil tedaviye aferez denir. Hastaların kanları alınır, kan daha sonra "yıkanır" ve farklı plazma ve kırmızı kan hücrelerine ayrılır. Kan daha sonra yeniden birleştirilir ve son olarak farklı bir damar yoluyla hastalara geri verilir. Tedavinin sözde uzun süreli covid'in önerilen nedenlerinden birini hafifletmeye çalıştığı söyleniyor: enfeksiyondan sonra oluşan mikro pıhtılara zarar vermek.
Bu kliniklerde sağlanan diğer tedaviler arasında pıhtılaşma önleyici ilaçlar, intravenöz vitamin takviyesi damlaları ve hiperbarik oksijen tedavisi yer alır. Yazarların görüştüğü doktorlar ve hastalar, bu müdahalelerin binlerce dolara mal olabileceğini söylüyor. Bazı hastalar daha sonra semptomlarında bir iyileşme bildirmektedir. Ancak rapora göre, en az bir hasta, tedavisine 50.000 ABD Doları'nın üzerinde harcama yaptıktan sonra hiçbir değişiklik yaşamadı.
olduğunu gösteren bazı erken kanıtlar var. mikro pıhtılar uzun süreli covid ile bağlantılı olabilir. Ayrıca uzun covid camiası içinde hasta olan doktorlar ve hastalar da var. iddia aferezin bu pıhtılar veya neden oldukları hasar için etkili bir tedavi olabileceğini. Ancak mikro pıhtılar, covid'in ne kadar süreceği konusunda önerilen tek teori değildir ve kalıcı enfeksiyon gibi diğer mekanizmaların da önemli katkılar sağlaması muhtemeldir. Bunun ötesinde, aferezin anekdot hesaplarının dışında mikro pıhtıları olanlara bile yardımcı olacağını gösteren güçlü bir veri yok. Örneğin, mikro pıhtıların diğer faktörlerin neden olduğu işlev bozukluğunun yalnızca bir biyolojik belirteci olması ve onları ortadan kaldırmaya çalışmanın aslında insanların altında yatan hastalığı tedavi etmemesi mümkündür.
G/O Media komisyon alabilir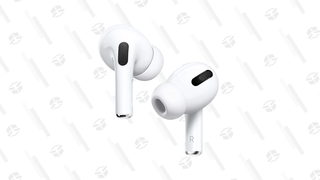 Save 32% during prime day
Apple AirPods Pro
Transparently awesome
These earbuds have active noise cancellation, transparency mode to let in outside sound as needed, and active EQ to ensure you get the best out of your audio.
There are araştırmacılar şimdi uzun süreli covid hastalarıyla küçük aferez denemeleri yürütüyorlar. Ancak genel bir kural olarak, tıp etiği uzmanları, klinik araştırma bağlamı dışında hastalar üzerinde deneysel tedaviler gerçekleştirme uygulamasını kınarlar. Çoğu zaman, vicdansız klinikler ve doktorlar, satış yaparak kronik hastalığı olan insanları avlarlar. tedaviler fahiş bir maliyetle – birçok uzmanın sahip olduğu bir eğilim uyarı uzun covid çevrelerinde de yaygın hale gelebilir.
Birmingham Üniversitesi'nde birinci basamakta klinik öğretim görevlisi ve bir araştırmacı olan Shamil Haroon, "Önceden yüksek düzeyde işlevselliğe sahip olan, şimdi güçten düşmüş, çalışamayan, kendilerini finansal olarak destekleyemeyen kişilerin başka yerlerde tedavi aramaları şaşırtıcı değil" dedi. BMJ/ITV News'e verdiği demeçte, Hastanede Kalmayan Hastalarda Uzun Covid Tedavileri (TLC) denemesi hakkında. "Böyle bir duruma tamamen rasyonel bir yanıt. Ancak insanlar, hiçbir etkililik kanıtı olmayan bu tedavilere erişimde potansiyel olarak iflas edebilirler."
Uzun süreli covid tedavisi için devam eden veya yakın gelecekte yapılacak birkaç deneme olsa da, hasta savunucuları bu semptomları olan insanlara yardım etmek için neredeyse yeterli kaynağın ayrılmadığını savundu. Ve bu hastalar soğukta bırakıldığı sürece, hiç şüphesiz çaresizliklerinden yararlanmak isteyenler olacaktır.
Kaynak Linki